♛ DEADPOOL FANMIX
Medium:
Comics
Fandom:
Marvel
Subject:
Deadpool ( Wade Wilson )
Title:
JESUS DOESN'T LOVE ME ( BECAUSE I'M A WALKIE TALKIE MAN )
Notes:
Explicit language warning for some songs! I tried capturing his sense of humor as well as his marriage with carnage.
Initially, this was 1/2 of my lovely friend's birthday present, but since I love DP just as much as she does, I'm sharing it here. I hope you enjoy!
...This is also proof that I'm not dead. I've just been doing lots of homework and finals/SAT prep lately! Expect greatness again! ♥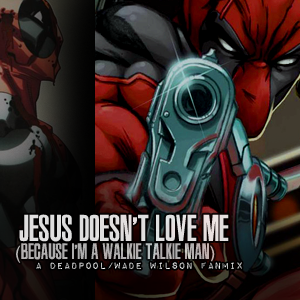 11 tracks + 2 bonus | warnings: explicit language

(
+13 tracks / lyrics / downloads
Collapse
)